Limited Limited Edition Dolls

The dolls that follow are Limited Edition dolls.
They are individually copyrighted , original dolls made
in an edition of 5,000 dolls or less. They are
each designed and hand made completely by the artist
and each is signed. They have wooden heads with either a delicately hand painted or natural finished face and delightful hand-tinted
features. They have either a muslin or acetate body filled
with polyester fiberfill secured to the head with vinyl coated wire, and some (as noted) removable and some "integrated" (attached-
also as noted) clothing.
(Editions subject to closure without notice.)


Victorian Bride
For her wedding day, she is wearing an integrated gown
(sewn to body) of snow white lace and ecru woven pointelle lace
(skirt) over a muslin petticoat. Her fabulous auburn hair
cascades down her back under the attached tulle veil of her removable
lace, felt and faux seed pearl bonnet. On her wedding day, she carries a wicker garden basket of silk flowers, trimmed with ecru lace.
Muslin pantalettes form her body under her skirt, decorated with lace ruffles over small painted slippers. She is 14 1/2" high by 12" wide and comer with her own stand.



Highland Lass
This is our bonny lass with her extravagant red hair

and perky (attached) tam with a white feather.
She is all dressed up in her Highland finery, showing
off her billowing clan tartan and shoulder brooch,
frothy white lace jabot and cuffs and black jacket
whch shows off a girl's figure to it's best advantage.
She also wears an attached plaid skirt with fringe, attached
muslin petticoat with lace ruffle, integrated (forming
part of her body) pantalettes with white lace ruffles
and dainty painted shoes. She stands 14" high and 10" wide
and comes with her own stand.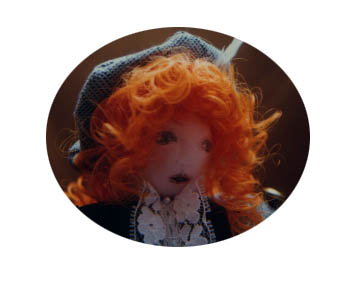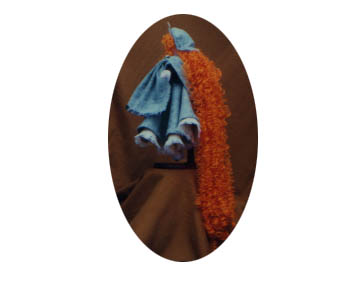 The Spirit of Mardi Gras

This doll portrays "Fat Thursday"; The Soul of New Orleans.
Her pensive mood and magic wand waiting to ignite the pre-Lenten

festival! Her removable hood is magenta lame and shimmering
turquoise and purple sateen and it ties under her chin with a purple cord.
Her body is fomed of the same shimmring sateen

and she carries a removable wand. She is 15" talland 16"wide,
and comes with a stand. This doll is limilted to an edition of 250.

Lady of the Nile
Everyone must stop and pay tribute (or so she thinks)
to our Beautiful and Imperious Lady. She is truly "dressed to impress"
wearing her silver and gold on imperial purple leather collar
necklace (removable), a gauzy pleated (attached)
white gown with rear train and gold trim belt.
Her beautiful black yarn hair and natural finished wood face
are set off by a gold metallic trim crown and the exotic
make-up she would never be seen dead without!
She is 9 1/2"wide by 14" tall and comes with a stand.
Body fabric is beige acetate.



Fairy Godmother


Every child"sEvery child's dream; a fairy godmother. Resplendent
in magenta lame and tangerine acetate shantung fabric; she
smiles benevolently or maybe a trifle mischievously, her
magic wand at the ready, waiting to grant our every wish. She wears a removable
matching hood that ties under her chin with purple cord,

an attached, full circle lame skirt. (She is a very glamorous
fairy godmother!fairy godmother!) integrated (forms her body) acetate shantung
bodysuit and carries a removable magic wand. She is 15"
high and 12" wide and comes with a stand.
Babycakes

BBeautiful, but spoiled, the next photos are of everyone's
darling; with her magnificent red hair and stunning
black lace (attached) gown. Underneath, she wears a muslin
petticoat trimmed with lace and muslin pantalettes with lace ruffles
form her lower body above her dainty painted shoes.
She is 13 1/2" high by 11"wideand comes with her own stand.




wd
Joy Angel
Our heavenly Our heavenly messenger is resplendent in magenta and dark blue
lame. She is 13 1/2" high by 11" wide and comes with her own stand.
Her icy white crocheted wings carry her back to Heaven when the need arises.
lyShe has magnificent black curly hair topped with a faux silver crown.
Her magnificent dress (removable) has a perfect swirl for sweeping her skyward,
done in the Greek style with shirred sleeves and she holds a
hymn book to help her sing the Lord's praises.
he has magnificent black cur



SSinging Angel

OOur singing messenger has magnificent red hair,
an attached beige lace gown and underskirt, a faux
gold crown, fluted sleeves and a marvelous faux gold harp
festooned with ribbons to accompany her heavenly voice.
She is 13 1/2" high by 11"wide and comes with her own stand.



-